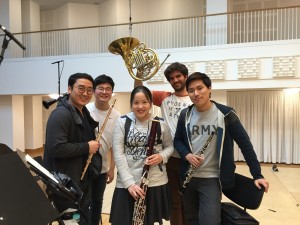 The very first CD Recording of the Veits-Quintet is done!
3 full days of recording with the ARS Produktion was very intense but such a nice experience!
Many thanks to Annette and Manfred of the ARS Produktion and also to Matthias Beltinger, who provided us the amazing musician podiums of Resonanzio!
The CD will consist of:
P. Taffanel : Quintet for Flute, Oboe, Clarinet, Bassoon and Horn
J. Ibert : trois pièce brèves for wind quintet
J. Francaix : Wind quintet No.1 
M. Ravel (arr. Mason Jones) : Le tombeau de Couperin
Although the official release of the CD in July, you could get the CD earlier if you come to our concerts in June! Looking forward to seeing you guys there!
6/13 – Veits Quintet recital in Yokohama, Japan
6/15 – Veits Quintet recital in Tongyeong, Korea
6/16 – Veits Quintet recital in Seoul, Korea
6/19 – Veits Quintet recital in Aulendorf, Germany